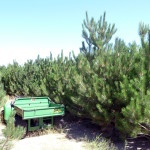 In addition to our livestock feed and organic foods, Alpine Farms of Gardnerville is a large-size tree farm. If local high desert grown trees interest you, we are your ideal source! We grow Austrian Pines — the hardiest native pine to our area, which do really well and live long. As well, we grow Jeffrey Pines and Ponderosas, the beautiful pines you see all around Tahoe.
We also grow Colorado Spruce — both the blue and the rare green, which many folks prefer in their landscaping — and Cedars and Sequoias.
We began our tree farm with a goal of growing trees that are native to the surrounding area. Twenty-one years ago, when we first planted our first seedlings, they were 12 inches tall—today some of them reach 28 feet in height.
If local grown trees are what you're looking for, we're your farm!
We noticed most of the trees re-sellers in our area offered trees that were grown in Oregon and Washington. The climate and soil in these states is very different from our high desert in Northern Nevada. Trees that are transplanted from other climates have a hard time adjusting, and after 4-6 years some end up dying. Our trees have grown up in this environment and don't experience the climate and environmental shock that these transplants do.
Our pines (all of our varieties) benefit from our organics. We have always fertilized our farm with liquid fish and kelp, 100% natural from Canada. We also create our own mulch here on the farm. We start with the wild sage, grasses and trees that have been cleared from the property. We than add natural earth elements as needed to scientifically balance our soil.
Multiple times a year we add the fish and kelp to our water in our sprinkler water system and in our water truck, which boosts the growth of the trees by acting like fortified rain. Additionally, this washes the dust off the pine needles for increased photosynthesis. Mother Nature naturally cleans the trees in the forest and adds nitrogen. We do this same thing with our large water truck using a specially designed spray arm that mimics rain.
Many people want a bigger tree and our trees are extremely healthy and tall. We offer all our trees by the foot, and have from 8' to 28'.
Contact us today to schedule a tour!
---